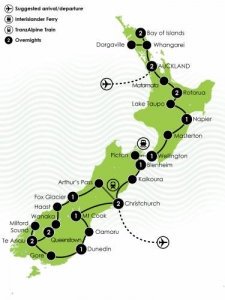 We're off to do a tour of New Zealand
As often is the case, our trips are not straight forward, since booking we have had the following that will possibly cause complications:
Well let's look on the bright side, at least the airline hasn't gone bankrupt as BMI did a couple of days before we were due to fly to Japan….
Coronavirus
Well after all the shenanigans regarding coronavirus, and will we, won't we fly through Shanghai, the end result was that we won't fly through Shanghai as the flight was cancelled.
I must say it's a shame as I was looking forward to seeing the different types of masks and breathing apparatus the Chinese adopted.  Better safe rather than sorry, apparently grapefruit masks are the best, closely followed by orange peel and if you don't have those to hand, pak choi leaves or a water bottle…..
However full marks to KLM as once it became clear the flight was finally cancelled they did manage to re-route us pretty quickly.  So instead of Shanghai it's Singapore and Changi Airport – noted the best airport in the world for 5 years in a row.
Travelling
Although it's a long way to NZ we decided to do it in one go on the way out rather than stopping over somewhere.
It was a little stressful on lead up to departure having to change flights due to Coronavirus restrictions. The flights we initially booked had minimal transfer times of 1.30 hours each. Unfortunately the new flights have 5 hour connections in AMS and SIN, no idea what to do sitting in a courtesy lounge for 5 hours…..
Schipol airport is deserted, never seen it so quiet, guess it's a knock on from the virus. Have just read that Cathay Pacific are asking staff to take 3 weeks unpaid leave! It's funny how such a simple thing as a cough or a sneeze now brings out a have they or haven't they reaction!
12 hours to Singapore, jet lag, no problem, quick shower, spot of retail therapy then a "Hairy gourd with cloud ear fungus" accompanied by a Tiger beer will sorted even the weariest traveller. Then off to look around Changi Airport.Voted the best airport in the world 5 years in a row.
Arrive….
'Haere Mai' … Welcome to New Zealand!
We were picked up at the airport and transferred to our hotel to try and sort out the jet lag – 13 hours difference is a lot. They reckon it takes a day for every hour to sort jet lag out – should be sorted in a fortnight…..
Straight out and down to the quayside to eat and drink, well it's Friday night it'd be rude not too.
Day 1
Jet lag, on the positive side, you'll never miss breakfast or be late for a tour😰 So after very early breakfast it was time to explore the city of Auckland.
We decided to get a ferry across to Waiheke Island, "rated one of the worlds top island destinations", to have a look around and sample some wine in the vineyards. We even found one that also had a craft brewery so all tastes were catered for.
Tonight we met our travelling companions over pre dinner drinks  and it seems like a nice bunch, half Aussies and half Brits.
Day 2
THE BEAUTIFUL BAY OF ISLANDS
Today we board our coach, it's not exactly "coach class" as generally accepted as there are only 20 seats in a 48 seater coach, one seat per side and we all have a reclining window seat with storage, tables and a complimentary bar!
Just an hour north of Auckland and we came to a place called Warkworth. It's famous for Parry Kauri Park and its old Kauri tree but we were more interested that this place was settled by a guy called John Anderson Brown and he came from Warkworth in Northumberland, what a small world…..
After seeing the Kauri Tree it was only natural to go the the tree museum. I thought the "tree museum" was only something Joni Mitchell sang about but no it was there and also had one of the finest collection of chain saws I've ever seen….
We then had a guided tour of the Waitangi Treaty Grounds, the location of the signing of the treaty between the Maori tribes and the British.
Day 3
A DAY OF LEISURE IN THE BAY

We stayed in Paihia, which is the perfect stepping stone into the Bay of Islands. Paihia is the place of friendly locals, happy cafes and people enjoying life whether it is swimming with dolphins, taking in a spot of retail therapy, bush walking or just lazing on the beach
The Bay of Islands has plenty of recreational activities in among the 144 islands: sail, fish, swim, dive, snorkel, charter a launch or paddle a sea kayak around the islands. The beaches in this region are considered some of the world's finest with their perfect white sand and crystal-clear water. From here you can dive the Rainbow Warrior which was the Greenpeace boat sunk by the French.
As we were still struggling with jet lag we decided on an easy day and after a leisurely breakfast we wandered to the jetty and took the ferry across the bay to Russell.
Russell used to be a debauched place called the "hell hole of the Pacific" now it's a really chilled out seaside village.
A quick walk around took us past the oldest church and first licensed establishment in NZ.
Charles Darwin contributed financially to the building of this church, the oldest in New Zealand. His theory of evolution later outraged the church, wonder if they gave him his money back?
The kiwi's egg is pretty large in relation to its body, wonder what kind of face it pulled whilst laying it.
Day 4
MORNING CRUISE / ON TO THE CITY OF SAILS
Today we took a luxury fast catamaran to cruise the Bay of Islands and then around Cape Brett to the famous 'Hole in the Rock'. We were lucky enough to have a pod of dolphin accompany us and also that the tides/swell allowed us to sail through the hole.
After returning to Paihia and a quick drink/lunch we left the Bay of Islands and headed south via Whangarei, Wellsford and Warkworth to Auckland.
Day 5
CITY TOUR / HOBBITON / ROTORUA
This morning we had a city sights tour including a visit to Sky Tower, one of New Zealand's most spectacular attractions.
I guess no trip to NZ is complete without a visit to Hobbiton where we had lunch and then a guided tour of the Movie Set from The Lord of the Rings and The Hobbit trilogies.
The  guide explained how this piece of farmland was transformed into The Shire from Middle Earth and even though it was 32 degrees it was fascinating.
Day 6
EVERYTHING ROTORUA
Today begins with a Gondola Rideat the Skyline Rotorua for breakfast with champagne, spectacular views and also time for a thrilling luge ride!
Next stop is the Agrodomefor an action packed hour of farming entertainment and education that's unlike anything else
Then off to Te Puiato to see the boiling mud pools and awesome Geysers that Rotorua is famous for.
32 degrees and a light breeze, punishing.
This evening we had a meal and experienced an entertaining Maori Hangi and Concert before heading to a night market.
Day 7
ART DECO NAPIER
Today we leave Rotorua and travel along the Thermal Explorer Highway to Huka Falls and Lake Taupo, then continue to Napier which is known as "The Art Deco Capital".
We then took a trip on the Hawke's Bay Express and were told about the city's fascinating history and how it was rebuilt in the Art Deco style
Day 8
WELLINGTON

On the way to the capitol of New Zealand, Wellington, we stopped at a really cool town called Greytown for lunch.
This colourful city is a stronghold for culture and the arts, not to mention stunningly located on the edge of a picturesque harbour and at the foot of rolling green hills.
Once we arrived we had an extensive city tour.
Most importantly we got down to a lovely quayside area and sampled the lovely beverages.
Day 9
INTERISLAND CRUISE / BLENHEIM
In the morning we visited Te Papa, New Zealand's National Museum, with exhibits that embrace both Maori and European views.
There was a brilliant display which retold the story of Gallipoli with giant sized models of actual people who were in that campaign. The models were made by the same Co that made the models for Lord of the Rings.
Then in the afternoon we boarded the Interislander Ferry and and enjoyed the scenery as we travelled through the Marlborough Sounds to Picton then on to Blenheim.
This evening we sampled some of the local wines from the Marlborough region.
Day 10
EAST COAST TO CHRISTCHURCH

Quite a long day today. We headed through Marlborough Country, famous for its food and wine, then along the coast to the seaside village of Kaikoura. We then continued onto the garden city of Christchurch.
We decided to head for New Regents Street a really cool area to socialise then on to A tapas place called the Curators House recommended by a friend to eat.
I think it'll be bad heads tomorrow as need to be up at 5.45😱
Day 11
TRANZALPINE TRAIN INTO GLACIER COUNTRY
This morning we board the TranzAlpine, renowned as one of the great train journeys of the world – Michael Portillo eat your heart out.
We travel over massive viaducts, river valleys and spectacular gorges as we ascend to Arthur's Pass National Park located in the centre of the Southern Alps.

We then travelled through the hills to Hokitika which is a lovely beach resort and renowned for its Greenstone, Jade and blown glass. It's also well know for its white bait patties but didn't see Sponge Bob Square pants anywhere.
We then went via Franz Josef Glacier to Fox Glacier and were meant to take a helicopter up to the glacier but unfortunately a combination of low cloud and bad weather prevented it. Hopefully we'll do it from Mount Cook later.
Fox Glacier Town is the very definition of a one horse town. No idea what's going to happen when the horse leaves!
At least it had a decent Saloon, but oh dear, the flies were vicious.
No matter how hard I looked I couldn't find a polar bear and trying to buy some Fox Glacier Mints well that was impossible.
Just a thought since little Greta has everyone's attention just now I wonder if she can tell me who they blamed when the glaciers started receding 25000 years ago!
Day 12
FOLLOWING THE WILD WEST COAST TO QUEENSTOWN
Unfortunately the heli trips to the glacier didn't happen due to cloud so we head south and see the snow capped peaks of the Southern Alps as we travel down the West Coast.
We took a cruise up the Haast river in a jet boat, an area of stunning beauty then continue via the Haast Pass and then alongside two stunning lakes. We then arrived into picturesque Queenstown, a year round resort situated on the shores of magical Lake Wakatipu.
Day 13
QUEENSTOWN AT LEISURE
Today we are going to relax and enjoy the stunning lakes – there is a bounty of vineyards, cafes and restaurants scattered around Queenstown but just want to relax with some food and a beer.
You don't have to be an adrenaline junkie to enjoy Queenstown and part of its charm is the array of less hectic quality activities on offer – but if interested Queenstown is home to the ultimate adventure bucket list.
This evening we board the vintage steamship TSS Earnslaw and cruise across Lake Wakatipu to Walter Peak Station and enjoy a gourmet barbecue dinner which the chef prepares in front of us at the Colonel's Homestead. After dinner a short farm tour then reboard the TSS Earnslaw for a sing along as we cruise back to Queenstown.
Day 14
TE ANAU – GATEWAY TO FIORDLAND NATIONAL PARK
A leisurely start this morning before travelling to picturesque Arrowtown,an old gold mining village and the Lakes District Museum. Continue to the lakeside town of Te Anau, the gateway to Fiordland National Park.
The glow worm caves have only been recently rediscovered, because someone had known they were there as Te Anau is a shortened form of "Te Ana-au" which means "the cave of the swirling water current". Getting to the caves involves a scenic cruise to the western shores.
Day 15
Small Boat CRUISE on SPECTACULAR MILFORD SOUND
"Mercy sakes alive, looks like we got us a convoy… " Who would think a road trip could be such an adventure… The road into Milford Sound was washed away a couple of weeks ago trapping people there and they have just reopened it only for coaches travelling in convoy. So we've joining the rest of our convoy at 10.00 and heading in. "Cause we got a mighty convoy Rockin' through the night."
The Road to Milford Sound is one of the worlds most scenic drives. The first part is relatively mild farmland, then beech forest near the entrance to the Fiordland National Park. We pass the 'Avenue of the Disappearing Mountain' and the 'Mirror Lakes'. But then the drama of the high snow capped peaks begins and the rough hewn Homer Tunnel brings us into the dramatic Milford Sound.
The Mariner Cruise is along the amazing 14 mile long fiord dominated by the towering Mitre Peak and spectacular Bowen Falls and we enjoyed a picnic lunch onboard whilst viewing tall waterfalls, vertical rock faces and seals are.
Milford Sound is the wettest place on Earth apparently and as such it has one or two waterfalls which we enjoyed.
Day 16
DUNEDIN – SCOTTISH CITY OF GRACE AND GRANDEUR

We travelled via Gore and Balclutha to Dunedin known as the "Edinburgh of the South". En route we made an impromptu stop at Manderville where there was a steam engine and air show. It was great to see the old working locomotives and beautifully restored old planes flying round the airfield. We then headed to Dunedin, did a city tour, checked into our lovely hotel then headed out to explore. With place names like Princes and George Street, statue of Robbie Burns and thistle logos everywhere the only difference between here and Edinburgh is that it's about 20 degrees warmer😂.
Day 17
MT COOK NATIONAL PARK

We drove along the Otago Peninsula to Larnach Castle, heard the tragic and scandalous stories on a guided tour and wander around the gardens followed by High Tea served in the Grand Ballroom. Jonny Fart Pants would have loved this place as the lighting was methane powered. Unfortunately one day it ignited and blew all of the windows out! At least they know the correct way to serve scones and cream……
We then travel to Oamaru which is famous for its limestone but also is a real arty place and has the weird Steampunk HQ.
We then follow the Waitaki River and see Lake Benmoreas enroute to Mt Cook.
Day 18
HIGH COUNTRY LAKES / CHRISTCHURCH

Mt Cook is New Zealand's highest peak and this morning we took a Scenic Flight and Glacier Landing in a helicopter over the Southern Alps, over three glaciers and around Mount Cook. We then continue on to Lake Tekapo with a view of the brilliant turquoise water, visited the Church of the Good Shepherd to see the Sheep Dog Statue before arriving into Christchurch.
Day 19
Singapore
All good things must come to an end but not quite yet, today we fly to Singapore for a few days chilling out n shopping.
will need to get on a tread mill to lose the excess…..