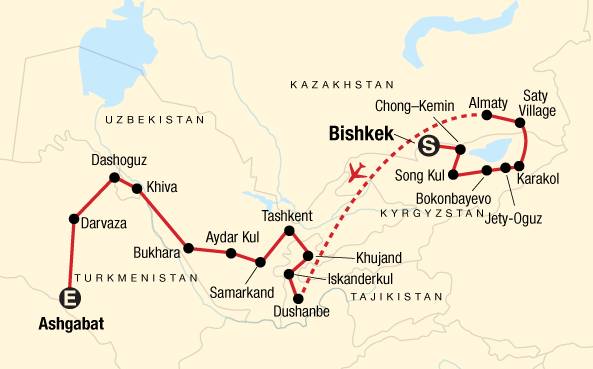 We're off to visit the Stans…
Thinking it should be pretty reasonably priced food wise considering there are 12,000 Soums to 1GBP……
Just looking at the amount of stuff on offer I cannot wait to buy loads of stuff I really don't need in the Madrasah or Souks as we would know them….
We've been told there are few opportunities for getting cash, some hotels have separate ATM machines for Visa and Master Card but either rarely have money in and travellers cheques are a big no no.
So here we go with a fistful of cash, watch this space…..
Day 1: Arrived in Tashkent
Straight off the plane we went sightseeing in the capital of Uzbekistan, the biggest city in Central Asia.
We visited the Old City part of Tashkent with Khast-Imom Complex where the world famous Quran of Caliph Uthman – Ottoman has been preserved. In Khast-Imom we visited Madrasah of Barak-Khan, Tilla Sheikh Mosque, Mausoleum of the Saint Abu Bakr Kaffal Shashi and the Islamic Institute of Imam al-Bukhari.
Had lunch in a local restaurant and ate plov and lagman, which was noodles in a broth.
After lunch we explored Chor-Su Bazaar, probably the biggest market we'd ever been in.
Then we took a ride on Tashkent Metro to the city center with Amir Temur Square, Independence Square and Applied Arts Museum.
We found out that although the carpets look beautiful they all have faults in them as only God is perfect.
After this due to the travelling we collapsed into bed.
You try all of your life to become a millionaire, why not just move to Uzbekistan, bring £100 and you become one overnight.  There are 12,000 Soum to 1GBP.  Lunch for four of us including "expensive" drinks was less than £10.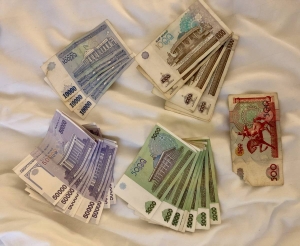 We've had Herring under a Fur Hat in Moscow many years ago, this time its Herring under a Fur Coat in Uzbekistan for old time sake…… All of £2.25!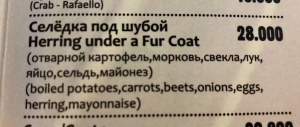 Tashkent is a beautiful safe city and a joy to wander around at night
If Carlsberg did breakfasts…..
Day 2 Tashkent to Chimgan.
We left Tashkent in the morning for the Chimgan Mountains, driving the picturesque road through local villages, gardens, and streams.
The cableway is a 3 km ride through Beldersay Gorge to Kumbel Peak (2400) where the longest ski track has its start. Needless to say we gave the skiing a miss. But enjoyed the walk.
We then continued to the shore of Charvak reservoir, surrounded by green mountains, numerous resorts and beaches its a favorite place of locals to enjoy summer days outside the city.
We then drove down Serpentine Road to Chinara's restaurant to have lunch under the shade of four giant plane trees. When we came to leave we really struggled to walk, partly due to the amount we'd eaten but also due to sitting cross legged for an hour!
Close to the restaurant, there are unique petroglyphs, rock carvings made by prehistoric people, preserved for the future.

Day 3: Tashkent – Urgench – Khiva
Today was a really early start to catch a plane over the Red Desert to Urgench, then by car to Khiva.
We then had a guided walking sightseeing tour in UNESCO World Heritage site Ichan-Kala Fortress.
This is an adobe style fortress on the outskirts of Khiva.
We visited Mukhammad Amin Khan Madrasah, Mukhammad Rahimkhan Madrasah, Kalta Minor, Kunya-Ark, Juma Mosque, Toshkhovli Palace, Pakhlavan Makhmud Mausoleum, Minaret of Islom Khodja.
This place is absolutely brilliant and our hotel was inside the Fortress/Old Town, which meant in the afternoon we virtually had it to ourselves. An added bonus was an annual folklore show called the Magic of Dance in the evening.
This place is just absolutely fabulous!
Day 4: Khiva – Bukhara
After an early flight from Khiva we did a walking sightseeing tour with a guide in Old City. Visit Lyabi Hauz Ensemble, Magoki-Attori Mosque, Chor-Minor Madrasah, trade domes, Kalyan Minaret, Kalyan Mosque and Miri-Arab Madrasah, Ulugbek and Abdulazizkhan madrasahs, Ark Fortress, Bolo-Khauz Mosque, Ismail Samani and Chashma-Ayub mausoleums.
At sunset we found a lovely roof top bar to eat/drink and watch the sunset
Day 5: Bukhara
Visit to Sitorai-Mokhikhosa – summer residence of Bukhara's last emir, unique site combining Oriental and Russian architecture. Continue to Bakhoutdin Naqshbandi Mausoleum and Chor-Bakr Necropolis.
Really hot day with temp heading to 39 so had a chilled out late lunch around a local pool.
Day 6: Bukhara – Samarkand
As we weren't departing until mid afternoon, after breakfast we watched the world go by from our terrace before a spot of shopping and a late lunch.
We then took the afternoon "Afrosiyob" train to Samarkand arriving in time for tea.
Once we arrived we headed out past Dinamos football ground and found this street that had amazing beer cellar/courtyards. It was a really interesting place as it had small rooms, that had a curtain across the door, for eating/drinking where we presumed Moslems went so they weren't seen drinking………
We had three beers, a large salad, bread (roughly the size of a large stottie), four different types of very large kebabs and the whole meal came to £6. There was way too much food and it was embarrassing how much was left. Looks like bill will be £4 tomorrow!😱
Day 7: Samarkand
We started with Gur Emir Mausoleum the shrine of Tamerlane.
Then visited the spectacular Registan Square and walked to the remains of Bibi Khahum Mosque ending up at Siyob Bazaar.
After lunch we visited Ulugbek Observatory and then drove to Koni Ghil village to explore traditional way of making Samarkand paper from mulberry.
I guess we've all heard that diamonds are a girls best friend. What a load of rubbish. LG Air Conditioning units are the new diamonds. This isnt actually the wedding its a few days before and the guests get to watch the video.
Also the bride gets to pull out if there isn't enough LG Air Con units in the pictures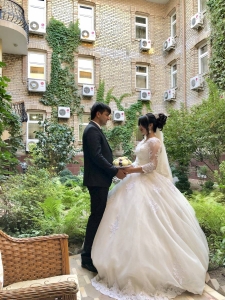 For anyone that's heading to Uzbekistan imminently and likes to imbibe, please be aware of the following.
You go to a bar in England and ask for a gin and you are offered up to 40 different types. Go to a bar in Uzbekistan and ask for a gin and they offer you red wine, white wine or pevo (beer).
There is no gin, and even if they pretend there is there is no tonic in the entire country.
Beer drinkers are more than well catered for, within 1 hour of being in Samarqand we found the oldest brewery and beer hall region.
So in the absence of GnT, VnT seems a decent substitute but be aware without specifying you will end up with a full bottle of vodka and a full carton of tomato juice. Even if you specify a 50ml of vodka you will still have a full carton of tomato juice.
Don't worry the cost is absolutely minimal even if you waste a full bottle of Pepsi or carton of Tomato juice.
2 VnT, 2 beers, a half of dark beer, and a carton of Tomato juice. 35,500 soums. That's just under £3 !!!!!!!
Felt peckish after that so had a Beef Tongue salad for £1.50!!!!
Day 8: Samarkand
Today we climbed up the hill to Visit Shakhi-Zinda Necropolis, and then drove to the Tomb of Saint Daniel.
After lunch we finished the tour at Afrasiab Museum.
After a bit of a chill at the hotel we headed back to Registran Square area to see the sun set and the lights come on.
We ate in a typical "cross legged" restaurant with cones from the best ice cream shop in Asia….
Day 9: Samarkand – Shakhrisabz – Samarkand
Today we headed out of the city to visit the Mausoleum of Jakhongir in Dor-us Saodat Memorial Complex, remains of Ak-Saray Palace, Dor-ut Tilavat Ensemble with Kok-Gumbaz Mosque and burial vault of Tamerlane's father.
In the evening we ate at a lovely restaurant called Platan.
Day 10: Samarkand – Tashkent
Today we took the Afrosiab (Bullet)train back to Tashkent for an over night stay before flying back to UK. We were glad we didn't do the "Orient Silk Road Tour" by train as their rolling stock actually looked as if it was from Silk Road times!
Time for last minute shopping and perhaps some illicit purchases, knives nothing more sinister……
Uzbekistan
After a superb late breakfast at the brilliant Wyndham Hotel it was a spot of reflection before the return flight.
We used a company in Tashkent, ADVANTOUR, to book our wonderful tour of Uzbekistan. They put together a fabulous tour for us at an incredibly reasonable price. Obviously their local knowledge was a huge bonus. For example, we took a 40 minutes flight from Tashkent to Khiva. Other travellers we met in our hotel had done an 8 hour, uncomfortable road transfer with nowhere to buy food or drinks en route. There is no substitute for good, up to date local knowledge. All the suggestions made to us by Advantour added up to the best possible tour we could have wished for. Their communication was excellent and there were no language problems whatsoever. We would have no hesitation in recommending them.