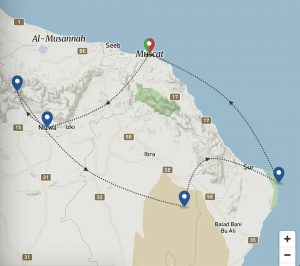 Day 1 – Arrive from UK via Dubai and stay at Radisson Blu.
Based in the heart of Muscat, the Radisson Blu is contemporary and colourful, with modern facilities and good levels of comfort. There is a lovely pool for cooling down after a day looking round the city, while the restaurants serve good food and the bar is perfect for a relaxing nightcap.
Day 2 – PANORAMIC CITY TOUR OF MUSCAT (HALF DAY)
Your driver will collect you at your hotel for your tour of the city this morning. This is primarily a panoramic tour which will help to orientate you with the main sights although there will be the opportunity to enter some areas and explore independently of the driver under your own steam.
You begin at the Sultan Qaboos Mosque. Completed in 2001, it is an enormous place of worship. With a large men's prayer hall, an adjacent women's prayer hall and further space in the courtyards and passageways, a total of 20,000 worshippers can gather at one time, making this one of the largest mosques in the world. The architectural influences are drawn from all over the world, with the main domed prayer hall based on Ottoman designs, strong Persian aspects to the interior design, and beautiful Central Asian ceramic niches found in the outer passageways. Two particularly interesting aspects of the mosque are the carpet and chandelier in the main prayer hall. The carpet is a 263 square metre affair that took four years to complete and was woven by experts from across the Islamic world. The central chandelier, the biggest of 35 in the prayer hall all made using Swarovski crystal and gilded metals, is 14 metres tall and eight metres across, has 1122 lights and weighs eight tonnes.
Please note that the mosque is closed on Fridays. Visitors to the mosque must dress respectfully – men and women should have arms and legs completely covered (clothes should not be transparent), and women should also take a shawl to cover your hair with. You will also be asked to remove your shoes before entering the prayer halls.
After the visit to the mosque you continue to Muscat's new Royal Opera House. The newly completed building is the premier venue for musical arts and culture in Oman. Built on the royal orders of Sultan Qaboos of Oman, the Royal Opera House reflects contemporary Omani architecture, and has a capacity to accommodate a maximum of 1,100 people. The opera house complex consists of a concert theatre, auditorium, formal landscaped gardens, cultural market with retail, luxury restaurants and an art centre for musical, theatrical and operatic productions. Tours of the property are based in the mornings, however, if you would like to attend a performance, the Opera House's website details their programme in the coming months (your specialist can assist with a booking if you require).
You continue now to Muscat and Muttrah, the older parts of town. In Muttrah you visit the fish souq, where the day's catch is offered for sale. Grouper, tuna, sardines and octopus are all regular catches, and the souq is a great place to see Omanis going about their everyday business. Further along Muttrah corniche, you pass the faded facades of merchant's houses dating to the time of Portuguese influence and control of the region. Delicate balconies and decorations are testament to this influence. Behind these buildings lies Muttrah souq. This is a traditional souq selling handicrafts, fabric, Omani clothes, spices, jewellery and all sorts of hardware, and is far more aimed at locals than tourists.
Just beyond Muttrah you pass through the fortified walls and into Muscat. Until the middle of the 20th century, Muscat still operated a curfew where the gates of the city were swung closed at sunset and anyone caught out after this was in serious trouble. Muscat lies on a natural cove, guarded by the forts of Jalali and Mirani as well as the enclosing mountains. Many of its buildings are amongst the oldest in the Capital Area, while there are also modern buildings in traditional style to house the various government departments. In Muscat you can look at the Sultan's Al Alam Palace – although not normally occupied, it is still closed to visitors. However nearby Bait Zubair is definitely open to visitors and has a superb collection of traditional Omani clothes, jewellery and firearms housed in one of the oldest residences in the city. Bait Zubair is a great little museum and a wonderful way of being introduced to Omani culture. As it is only small, you'll only need a short stop here, but you'll learn a great deal about the city's history.
Overall the tour will last roughly four hours, however this will be extended if you want more time to explore – you certainly won't be rushed around! Bottled water is also included throughout.
Day 3 – MUSCAT TO NIZWA VIA WADI BANI AWF
Leaving Muscat, you travel north along the Batinah Coast until you reach Seeb, where you'll turn inland towards Nakhl. At Nakhl, the tar road soon comes to an end and you pick your way along the wadi floor towards Snake Gorge. This is Wadi Bani Auf; for a long time only traversable by foot. The steep cleft in the mountains is one of the most scenic drives in Oman and brings you out near the capital of the interior; Nizwa, your final destination for the day.
ANANTARA AL JABAL AL AKHDAR RESORT
Nestled in the heart of the beautiful 'Green Mountain', less than an hour from Nizwa town, the Anantara Al Jabal Al Akhdar Resort is a truly luxurious retreat for those looking for privacy, a peaceful environment and fabulous views over the Saiq Plateau and its famous terraced fields. The lodge sets out to be a modernist version of a classical Omani Fort and contains 82 spacious rooms and 33 private villas, all of which over wonderful views over the canyon. The hotel has a range of facilities including an infinity pool that offers commanding views over the surrounding area.
One of the best parts of staying here is looking at the stars from the star gazing platform on a clear night – completely unimpeded by any light pollution as the property is so secluded. Despite its isolated location, there are plenty of dining options to choose from. From pan-Arabian fine dining at the Al Qalaa Tower restaurant, to high-end Southeast Asian cuisine at Al Maisan and Italian home cooking at Bella Vista, you will be able to try a diverse range of excellent cuisines.
Day 4 – SUGGESTIONS FOR YOUR FREE TIME AT THE ANANTARA AL JABAL AL AKHDAR
The spectacular mountainous location of the Anantara Al Jabal Al Akhdar gives you the opportunity to enjoy a number of activities unique to the landscape. Choices include nature hikes, scenic drives, and local village visits as well as access to the resort's infinity swimming pool with a dramatic canyon backdrop.
Day 5 – WALK FROM AL AQUR TO SAIQ
Today you have the opportunity for a short walk from the village of Al Aqur to the village of Saiq. This walk will take around two hours, depending on your fitness levels and the weather conditions.
The starting point for this walk is Al Aqur village, from where you can view the valley of Wadi Muhaydin and the villages of Al Ayn, Ash Shirayjah and in the distance Saiq. From Al Aqur you follow the trail (known as W18b), which is marked with red, white and yellow paint at regular intervals. The route will give you the opportunity to view traditional farming practises, including the terraced farms and the falaj irrigation system, as well as local village life. There are some outstanding views and beautiful landscapes, and if you visit in spring you can be assured of seeing plenty of colourful flowers in the orchards and farms. The valley is also of interest geologically, with fossilised coral being visible in places, whilst the whole area is well known for the production of rosewater, which can be purchased in Saiq.
The walk is four kilometres long and goes through villages and gardens, so please be aware that you will be passing through private property. If you need to shorten the walk then you will need to exit the valley via one of the villages, which all have road access. If you wish to extend the walk then you might like to walk both ways (starting and finishing in Al Aqur).
Day 6 – JEBEL AKHDAR TO JEBEL SHAMS AND NIZWA
Winding down from the Saiq Plateau, you join the main road and head deeper into the interior. You'll bypass both Birkat al Mauz and the town of Nizwa, heading higher into the mountains again as you travel towards the town of Al Hamra and beyond.
The journey will take just over two hours in total.
BALCONY WALK IN JEBEL SHAMS
Following breakfast, your driver will take you to the village of Al Hamra where you pick up your walking guide. From here you continue to drive up to Al Khatim. You disembark the car and begin your walk with your guide along the 'abandoned village walk' and come back to Al Khatim. You then have roughly an hour to take in the magnificent views as you enjoy a picnic lunch in the mountain rest hut. Following lunch you walk into Wadi Ghul with your guide (your driver will have gone ahead and will meet you there). You are then driven back to your hotel via Al Hamra.
GOLDEN TULIP
In a quiet location about a 20 minute drive outside of Nizwa, the Golden Tulip Nizwa Hotel is set amidst the rugged Hajar Mountains and is a good base for exploring Oman's interiors. The majority of the 120 rooms have private terraces that back onto the swimming pool and are all equipped with air conditioning and cable television. The hotel has one restaurant and three bars, including a poolside bar where there is a weekly barbecue buffet.
Day 7 – NIZWA TOUR AND CAMEL MARKET
Today you have some time to explore the Nizwa's main sights and places of interest with your driver, taking in its famous souq and mosque as well as Nizwa Fort.
Reflecting Nizwa's former strategic importance, the fort is a vast circular tower that completely dominates the town. Standing 30 m (100 ft) high and with a diameter of 36 m (120 ft), it exudes an air of impregnability. A stairwell is cut through the stone filling of the tower, complete with slits through which the defenders could pour boiling date oil on any attackers. Standing on the ramparts you have a fantastic view over the town and surrounding date plantations, a view that equates nicely with the field of fire of the cannons still found bristling through gun ports. Looking between the wall of the tower and an adjoining building, you glimpse one of the classic images of Nizwa, the tall minaret and dome of Nizwa Mosque which is periodically open to visitors.
Located nearby is the Nizwa souq. Less than 20 years ago Nizwa had one of Arabia's largest souqs; a warren of interconnecting lanes lined with hundreds of tiny shops. Although now in a new, purpose-built complex, this is undoubtedly a traditional souq. The style of the buildings is entirely in keeping with the historic architecture, and the items on sale – dates, pots, jewellery, guns and local produce haven't changed much in the last 150 years. We would recommend browsing here for some of Nizwa's famous silver jewellery or simply visiting to watch expert craftsmen in action as they fashion exquisite silverware or a range of other items.
Day 8 – JABRIN, BAHLA AND AL-HAMRA VISIT
Jabrin is one of the best forts to visit in Oman. To call it a fort is a bit of a misnomer, as it was originally built by a peaceful Imam of the Ya'aruba Dynasty in 1670 as a home, and subsequently functioned as a retreat for similarly scholastic imams. However, a defensive wall and gun towers were added to the original construction, and military action very occasionally happened here. As a primarily domestic residence and contemplative retreat, the standard of decoration at Jabrin is considerably higher than at many of the other, more militaristic, forts and castles. This is one of the main reasons to visit: in particular, the wonderfully restored painted ceilings are stunning, as is much of the decorative carving and door design.
Bahla Fort is a UNESCO World Heritage Site, mainly due to the venerability and extent of the fortifications. There has been a fort on this site as far back as 1000 BC, and the walls that encircled the settlement and its palm plantations stretch for 12 kilometres around the fort. You'll be taken to a hill to look down on the fort and walls to fully appreciate its scale. However, Bahla is also renowned for pottery, and you will have the chance to visit a traditional pottery to watch pots and bowls being made.
Bahla was for many years a centre of Sufi mysticism, a heterodox form of Islam very much running counter to the prevailing austerity of Ibadhi Islam, so local legends abound with tales of jinn (devils), flying mosques, magic and sorcery, making this one of the more otherworldly places in Oman.
Al Hamra nestles against the base of Jebel Shams and is one of the few old towns in Oman not to boast a fort or defensive wall. The town today is a mixture of old and new, with the old section being the real attraction. Here you'll find traditional two- and three-storey mud houses that are very reminiscent of Yemeni architecture, yet boast satellite dishes – this is a historic quarter still very much inhabited.  One old house, dating back three hundred years, Bait Al Safa is open to visitors, and is where Sufi women used to live together like nuns.  You may also spot a halwa maker in Al Hamra, who makes the traditional Omani sweet in a huge copper pot.
The duration of today's excursion will be around six hours, depending on how long you spend at each location.
Day 9 – NIZWA TO THE WAHIBA SANDS
Leaving Nizwa and heading east, the Hajar Mountains will be a constant companion on your left for this journey. To your right, a flat gravel plain will slowly give way to a sliver of orange sand, the first dunes of the Wahiba Sands as you pass through a series of one-horse towns. In one of these towns you will turn off the road and start toward the desert.
Desert driving involves going quite quickly to ensure the vehicle does not become bogged down. This is especially true when trying to get up and over a dune, so be prepared for a bumpy and exhilarating drive!
MORNING EXCURSION TO WADI BANI KHALID
Leaving the desert you drive to Wadi Bani Khalid. At this point, towards the tip of the Arabian peninsula, the Hajar Mountains are beginning to lose their dramatic height. Steep but fairly low wadi walls enclose the deep green and blue pools, although the stream in the wadi does disappear into a satisfyingly narrow and rushing canyon. It is one of the prettier parts of Oman and the exposed geology is dramatic and interesting.
1000 NIGHTS DESERT CAMP
The 1000 Nights camp is a larger camp (61 tents in all and two permanent guest houses that make up the four 'sand house' accommodations), located in an impressive desert basin with dunes rising to either side. The camp consists of individual traditional black wool Bedouin tents, each furnished with a bed with sheets and blankets, rug flooring, a small table and chairs, towels, and bottled water. The camp offers a swimming pool and attached cafe.
There are four accommodation categories here – the en suite Sheikh tent and the walled sand house for those who prefer their creature comforts! The camp also includes five Ameer tents, which, like the sand houses, offer a higher level of luxury, including air conditioning, en suite facilities and an outdoor area, with a private swimming pool.
As the sun sets, lamps light the pathway to the open-air dining area, which is traditionally decorated with large, comfortable cushions. Cool drinks and refreshing mint tea are served followed by a buffet consisting of traditional Middle Eastern salads and grilled meat. Breakfast is also a traditional affair and will most certainly keep the hunger pangs at bay until lunchtime.
The main highlight of any stay here is a trip to the top of the dunes just before sunset – the views and sunset hues can be stunning.
Day 10 – THE WAHIBA SANDS TO MUSCAT VIA SUR AND THE COASTAL ROAD
Leaving the desert, you head to Sur. Renowned for its boat building industry, Sur is located on an attractive corniche looking out over the turquoise waters to the village of Ayajh; with its three watch towers, distinctive light house and attractive white washed architecture. Here you will find the renowned boatyards; where dhows are still made to this day. It is possible to take a ferry over to the village (although you are more likely to drive around the lagoon) and visit the boat yards. Up to 100 dhow boats are anchored in the port; some still in use, others derelict.
You continue in a northerly direction along the coastal road which is sandwiched between high mountains and white sand beaches. After this scenic drive, the final part of your journey takes you back through the rugged interior until you reach Muscat.
Day 11 – AL BUSTAN PALACE
Ever since its creation, this hotel has been providing first-rate service and accommodation as you'd expect from a member of the Ritz-Carlton group. Set not far from old Muscat, it also has the advantage of extensive landscaped gardens, and a long stretch of private beach.
The hotel has a buzz about it, due to its size and proximity to Muscat. As well as those looking to relax in the beautiful surroundings, you may come across people planning a trip to the desert, locals meeting for tea, or expats enjoying a drink.
Guests are welcomed by a soaring atrium, richly decorated in a traditional style, with a crystal chandelier and fountain, and the rooms are designed to reflect local traditions while providing state-of-the-art facilities.
Set on a one kilometre private beach in Muscat, and backed by the Hajar Mountains, Al Bustan Palace has a striking location.
The sand stretches a long way from the hotel, making it perfect for beach activities, with the Gulf of Oman beyond.
The capital city of Muscat is only a short drive away and the hotel runs a complimentary shuttle service once a day at peak times of year, so you can explore the many shops, souqs and restaurants on offer.
The 200 rooms and 50 suites at Al Bustan Palace have all been completely renovated to high standards, to reflect the local traditions.
All rooms and suites have private balconies, air-conditioning, free wireless Internet, satellite TV, DVD player and minibar.
The Al Bustan Palace has a wide variety of restaurants and bars, offering a wide range of cuisine, and the opportunity to dine al fresco. For an all-day dining restaurant, Al Khiran Terrace serves buffet breakfast, lunch, and dinner.
With the kitchen team specially recruited from China, the China Mood restaurant serves authentic cuisine, and is open for lunch and dinner. Set by the sea, the Beach Pavilion serves fresh fish and seafood, and is also open for lunch and dinner.
The final dining option is the Seblat Al Bustan. Every Wednesday night, there is an Omani night, with traditional cuisine, music, dance, and arts and crafts.
Please note that hotel restaurants can be busy at the weekend (Friday & Saturday) with local residents and ex pats and it may be advisable for you to ask your specialist to pre book for you.
In addition to the large infinity pool, there are four lagoon pools, a separate children's pool and over one kilometre of private beach. Sun loungers are available by the pools and beach.
On the water, you can give kayaking, snorkelling, sailing and windsurfing a try. There are also four floodlit tennis courts with a resident coach available from October to May.
The fitness centre offers the latest cardio and weight equipment, plus separate aerobics room, sauna, steam room, and relaxation rooms.
The extensive Six Senses spa, reflecting traditional Omani design, offers 17 treatment rooms as well as sauna, steam rooms and hammams.
Scuba diving can be arranged at the Oman Dive Centre, and there are 20 fantastic dive spots, from within just a few minutes to 1.5 hours' travel from the hotel.
One of the main attractions is the wreck 'Al Munasir', with a length of 85 metres, but there are various groups of reefs with depths of 9 – 15 metres. The variety of fish in the seas around the Sultanate is well-known as one of the biggest around the world.
Visit China Mood for great quality authentic Chinese cuisine.