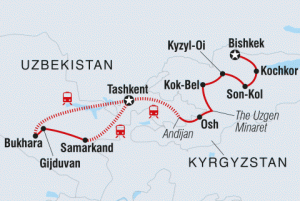 We're off to do a tour of Uzbekistan
Day 1: Tashkent We start sightseeing in the capital of Uzbekistan, the biggest city in Central Asia. Visit Old City part of Tashkent with Khast-Imom Complex where the world famous Quran of Caliph Uthman – Ottoman has been preserved. In Khast-Imom visit Madrasah of Barak-Khan, Tilla Sheikh Mosque, Mausoleum of the Saint Abu Bakr Kaffal Shashi and the Islamic Institute of Imam al-Bukhari. Explore Chor-Su Bazaar. Then take a ride on Tashkent Metro to city center with Amir Temur Square, Independence Square and Applied Arts Museum.
Day 2: Tashkent 
Free day in Tashkent.
Day 3: Tashkent Free day in Tashkent.
Day 4: Tashkent – Urgench – Khiva This morning transfer to local airport for flight departing to Urgench then go for a guided walking sightseeing tour in UNESCO World Heritage site Ichan-Kala Fortress. Visit Mukhammad Amin Khan Madrasah, Mukhammad Rahimkhan Madrasah, Kalta Minor, Kunya-Ark, Juma Mosque, Toshkhovli Palace, Pakhlavan Makhmud Mausoleum, Minaret of Islom Khodja.
Day 5: Khiva – Bukhara We enjoy a walking sightseeing tour with a guide in Old City. Visit Lyabi Hauz Ensemble, Magoki-Attori Mosque, Chor-Minor Madrasah, trade domes, Kalyan Minaret, Kalyan Mosque and Miri-Arab Madrasah, Ulugbek and Abdulazizkhan madrasahs, Ark Fortress, Bolo-Khauz Mosque, Ismail Samani and Chashma-Ayub mausoleums.
Day 6: Bukhara We start the day with a visit to Sitorai-Mokhikhosa – summer residence of Bukhara's last emir, unique site combining Oriental and Russian architecture then continue to Bakhoutdin Naqshbandi Mausoleum and Chor-Bakr Necropolis.
Day 7: Bukhara – Samarkand Take "Afrosiyob" train to Samarkand. This is a bit like the "Bullet train"
Day 8: Samarkand 
We visit spectacular Registan Square, remains of Bibi Khahum Mosque, Siyob Bazaar and Gur Emir Mausoleum – authentic shrine of Tamerlane.
Day 9: Samarkand We continue sightseeing: visit Shakhi-Zinda Necropolis, Ulugbek Observatory and Tomb of Saint Daniel. Then drive to Koni Ghil village to explore traditional way of making Samarkand paper from mulberry then finish the tour at Afrasiab Museum.
Day 10: Samarkand 
Free day in Samarkand.
Day 11: Samarkand – Tashkent 
Take the fast-speed Afrosiyob train departing to Tashkent