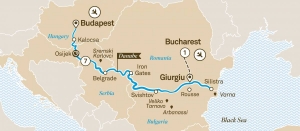 We did a cruise along the Danube from Budapest to Bucharest, then had a few days to explore Bucharest
Day 1 – Kalocsa
Early this morning we sail out of Budapest towards Kalocsa, one of the oldest towns in Hungary, famous for the production of paprika. This afternoon we visit a local Puszta Horse Farm and enjoy a performance showcasing the exceptional riding skills of Magyar horseman. Tonight, the Captain will be delighted to host a gala dinner.
Day 2 – Osijek
Today we cruise into the border region of Croatia, an area that was heavily damaged during the Croatian War of Independence at the end of the communist era. Back at the ship we compare stories and enjoy an evening of sailing further down the Danube into Serbia, where remnants of former conflicts can be regularly seen along the river banks.
Day 4 – Kostolac
Today we embark on an incredible journey to the first and biggest architectural archaeological excavation in Eastern Europe, the Viminacium Archaeological Excavation Site and Museum. This site was one of the most important Roman cities and military camps in the period from 1st to 4th centuries. Its exceptional strategic importance was reflected both in the defence of the northern border of the Roman Empire and in turn of communications and commercial transactions. Return to the ship and sail through the narrow gorge between the European Alps and Carpathian Mountains, known as the Iron Gates.
Day 5 – Vidin
Arrive in Vidin, the most western town in Bulgaria. The day begins with a tour visiting a local vineyard with wine tasting. Later we visit the medieval Baba Vida Fortress then embark on a hike to Belogradchik rock fortress. Tonight we  join the Captain for a farewell reception and dinner.
Day 6 – Rousse – Veliko Tarnovo & Arbanasi
Today the ship cruises to Rousse and we visit the impressive cliff top town of Veliko Tarnovo, the former capital of the Bulgarian empire known once as the 'city of the Tsars'. We visit the historic town of Arbanasi perched on a high plateau overlooking the Yantra River and lined with traditional houses. The town is known for its 17th and 18th century churches and many examples of Bulgarian National Revival architecture.